Deploy Nifty Modified Call Butterfly strategy: Shubham Agarwal
Modified Call Butterfly is a 4 - legged strategy where 1 lot of Call close to current underlying level is bought against that 2 lots of higher strike calls are sold and 1 more lot of Call is bought but closer to the call sold strike
SHUBHAM AGARWAL |
03-Aug-20
Reading Time: 3 minutes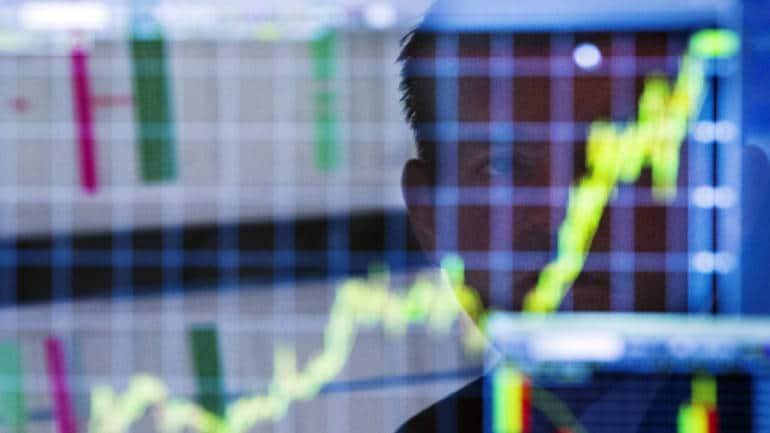 After 6 straight weeks of gains, Nifty softened for the first time on weekly basis in July Series. Despite that the expiry ended with almost 8% gains for Nifty for the series.
The weakness that creeped into the index, especially after the mid-week, was responsible for almost all of the loss. For the week, Nifty shut shop with around a percent loss after the first session of the August expiry was unable to create any spark in an effort to reverse some of the previous losses.
Within indices, Bank Nifty also had by far the worst week of July expiry. There have been losses for Bank Nifty during the July expiry but the losses for the week outnumbered the ones before. Bank Nifty though the ups and downs wound up the July expiry with less than one percent gains into the positive territory.
The wash out of the majority of the gains happened this week after the week started for the Bank index with over 3.5% fall and on top of that almost 2% cut on the day of expiry. With similar mild weekend session, Bank Nifty lost close to 4.5% this week.
It was the week of expiry so the most exciting futures OI activity was rollovers. Both indices Nifty and Bank Nifty rolled more or less around the 3M average rollovers. Bank Nifty rolled about 5% lower than 3M avg. and Nifty rolled 3% higher than avg.
This week's softness and the fact that we were close to recent high around the opening of the week could have contributed to the same. The OI addition in indices was a other way around Nifty lost a bit of OI so no carry forward and Bank Nifty added OI despite of lower rollovers.
On the stock futures front, Aggregate futures rollovers were also lower by around a percent for the July series. And even on the overall basis the futures participation shrunk by over a percent. Around half of the stocks rolled lower than 3-M average and similarly almost half of the stocks lost OI expiry over expiry with most popular OI activity being short covering.
Interestingly, Nifty rose almost 8% yet there were equal number of stocks that added Long and Short interest expiry over expiry. Among sector aggregates the most popular OI activity was Short Covering led by Auto where Hero MotoCorp, M&M and Escorts contributed the most. IT was biggest winner but Longs in TCS and NAURI reversed the loss in OI in rest of the stocks, similar lack of C/F in Reliance pushed Oil in short covering. Incremental OI was notable in Media with sizable shorts in ZEEL.
Coming down to sentiments, things were a little stable on the risk front, as despite of all this weakness India VIX did not rise which indicates that participants may not be confident but they are still optimist. On the options front, Biggest notable here is the heaviest Put strike of 11000 across expiries. The only worrisome factor is the abundance of Call writers in weekly series, expecting Nifty might just not run away from here.
Finally, Nifty futures along with aggregate futures lacked carry forward of OI. This along with most popular OI activity being short covering reduces confidence. On the other hand, String standing of 11000 Put despite proximity and lack of rise in Implied Volatility indicates optimism. Lack of Confidence in Futures along with Optimism in Options could reduce momentum in Nifty. Hence, Modified Call Butterfly is advised to trade expected halt with a thin possibility of rise after that.
Modified Call Butterfly is a 4-legged strategy where 1 lot of Call close to current underlying level is bought against that 2 lots of higher strike calls are sold and 1 more lot of Call is bought but closer to the call sold strike. This keeps the lower but constant profits in case of upward breakout. This is a fairly risk averse and a universal strategy.
https://images.moneycontrol.com/static-mcnews/2020/08/sa.png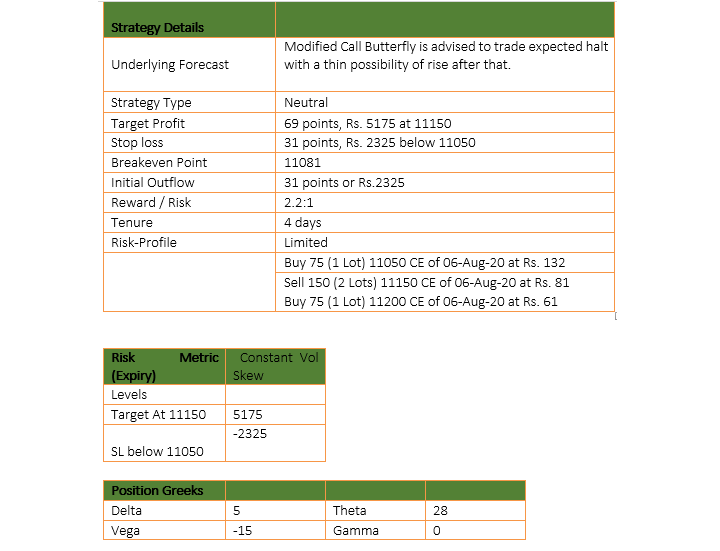 https://images.moneycontrol.com/static-mcnews/2020/08/sa1.png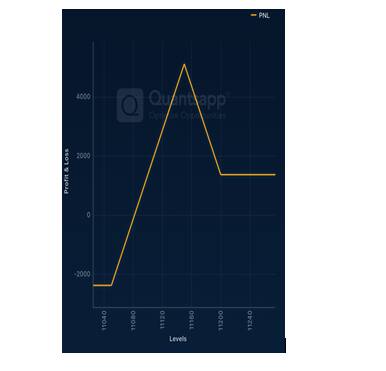 (The author is CEO & Head of Research at Quantsapp)
Disclaimer: The views and investment tips expressed by investment experts on Moneycontrol.com are their own and not that of the website or its management. Moneycontrol.com advises users to check with certified experts before taking any investment decisions.
Learn and read more about Iron Condor from Quantsapp classroom which has been curated for understanding of short strangle strategies from scratch, to enable option traders grasp the concepts practically and apply them in a data-driven trading approach.